Over 25 Years Of Experience.... Feature Film, Television, Themed Attraction, Scenic Decor, Merchandising (wholesale - retail), Commercial and much more! Scroll on down, look around - contact us... dynamicdesignintl@yahoo.com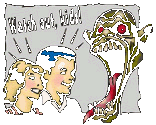 Custom Design International is DDI's design department, which specializes in custom-designs-of-all-kinds! Custom masks, custom props, mask production - you name it! Tell us your needs and we'll give you options based on them. If you don't see what your looking for, it doesn't mean that we can't make it - we can! These pulpy-pages are packed with pix! Click-on the thumb-nails for a larger view!


Better Watch Out... 'cause here's just a small sample of the custom masks, props, mascots, figures, decor and scenic - designed and created by DDI, over the past 25 fun-filled years! Designed and created for themed attractions, scenic displays, film and television, commercials, marketing, themed events and individual consumers! Send us your designs and concepts.... we'll send you a custom-quote!



Click the IMDb logo to see our entertainment credits! Film, Television, Television Movies, Commercials and more! Facebook - Linkedin to the right!

Use this handy yellow link (left) to see who we design, fabricate and manufacture for.
A small sample of our clients and corresponding projects!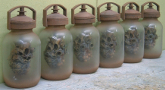 Guillermo del Toro & FX Television, bring you The Strain. In an antique apothecary jar, a worm-infested, vampire-heart resides! Midnight Oil Creative marketing asked for 110 duplicate hearts... alive!" Notes inside read: Warning: Heart is infected. Don't open specimen jar. Sporadic movements when exposed to light. Movements will increase... "As He Gets Closer!"



Mix It Up! At Busch Gardens Tampa. The annual Wine And Food Festival has a lot more than just wine and food! If you have a sweet-tooth, you'll enjoy our giant-sized lolly-pop, candy and logo props.

Halloween Horror Nights 24/25. When Universal Studios Orlando asked us to lend an appendage (or two) to their annual Halloween spooktaculars, we asked... "does a shark poop in the sea?" Sample pages (top of page) show our custom props, masks and decor!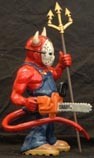 If you've ever wondered where Eminem gets his custom Chrome Chainsaws and Battle-Bats made... wonder no more (see right)! Eminem - Slim Shady Clothing needed two of each - plus figurine production of their company logo character (left). From initial concept and design on one-of-a-kind custom props, to mass produced promotional items, ask about our experienced custom design and manufacturing facility....... we've got you covered!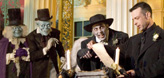 When Disneyland needed three of their Haunted Mansion inhabitants to "fly-the-coup" on a happy-hike throughout their park and into Los Angeles - who d'ya think they called Dynamic Design International!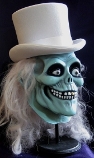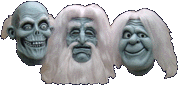 The Hitchhiking Ghosts were planning a ghoulish getaway from their cozy moldy sanctum within Disneyland! There were twelve custom masks designed and created (four of each) produced and delivered in under a week! Each happy haunt went off without a "hitch!" Our clients were so happy in fact, their next happy-hike was held for a Television Spot!


Cirque Du Soleil "O" (The Bellagio Hotel & Casino - Las Vegas/Nevada).
The "Comets" appear throughout the show, wearing brightly colored costumes, intricate make-up and finely detailed head-dress-attire. DDI has designed and created an ongoing supply of quality caps (in multiple sizes)!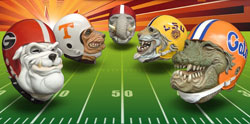 When The Sentaur Group secured the collegiate licensing for their football masks and props, DDI created their designs, prototypes, manufacturing, packaging and logistics (the entire gig). Spanning years, with multiple teams and styles.






The natives are restless at DDI. Their insatiable appetite for all things creative, is a welcome curse! Reflected in their art, they forge their creativity, closer to the heart!


Hang-Ten Dude! - Ridebro Shoes are all about gettin' back to an easier way of livin'. Their mascot is a laid-back, cool-dude, in a loose-mood... but this funky-monkey is on the move - an' lookin' for thrills around every corner! When you get a call asking you to design masks that can be worn while jumping out of an airplane, or poundin' the curls... you'd better build it to last.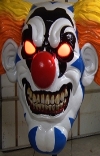 Got Theme Park? - The Dark Carnival (NJ) Haunted Attraction asked us to produce these fiberglass clown props - based on their haunts lead character. Each head measures over four feet high & five feet wide, complete with inner smoke-machine piping and glowing eyes!

The mascot for Mount San Antonio College is a hardy wilderness chap. The Aquatics Department contacted us regarding a three-foot-high statue, depicting the school's mascot, his name - "Joe Mountie". He's as rugged as he looks, 'cause he's made to last with fiberglass - resin and an inner rigid-core, plus steel mounting-hardware. He lives outdoors year-round (pool-side) where the team rubs his foot for good luck, before each meet!

What do Halloween and Political Campaigning have in common? Putting on masks, going door to door - and soliciting for as much stuff as possible, in a specifically alloted amount of time! The similarities are scary and so is this Campaign-Commercial
(click mask image). Be careful next time you open your door, or your bill-fold... for that matter!

Politicians Wearing Masks? You betcha'! We get numerous inquiries for satirical and non-satirical masks based on many a fun-lovin' political figure! When Bob Sullivan decided to run for Governor of Oklahoma, a TV Commercial produced for his campaign required our particular talents! Click-on the image (at right)!

Custom props from DDI include popcorn buckets that are filled to the brim with rigid resin popcorn! This larger-than-life bucket-"o"-corn had to be durable enough to withstand it's long journey to the Cannes Film Festival in France, yet light-weight enough for easy handling. Fabricated feverishly in a few days, our custom "prop-corn" was a very last minute (and we mean last minute) addition to "The Simpsons Movie" promotional display! Mmmm... "let's all go to the lobby, let's all go to the lobby..."


Bail-Out Bull-Sh**! (click images - for CNBC and fun Youtube vids!)
Custom masks - sure to frighten anyone trying to keep food on the table and a roof over their head! Both masks created for Ben And Hank.com
Professorit.com is the place to go, if you want to educate yourself, on almost anything!
Their mascot-character was a blast to create. A cool looking, hip, scientific-cat - wearing removable, custom-golden-specs! This cerebral-sage, not only educates...... he invigorates! Click-on his image (left) and enjoy those craaaaazy dance-moves!



The Painted Turtle is the sixth addition to Paul Newman's Hole In The Wall Camps for seriously ill children. It was a pleasure creating twenty unique turtle masks for their star-studded Halloween Costume Ball!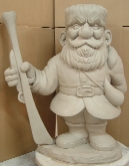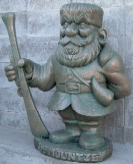 There's a method to our madness.... and your part of every step!
We take your images and hand-sculpt per your specs, from initial rough-in, through finished rendering. You confirm each step. If you want to make a change, you just let us know... and we make it. It's simple and it's fun! There's nothing like seeing your custom mascot, prop or mask... come to life in three-dimensional-form! images on left and right - show clay design-sculpt & finished fiberglass-resin statue.



OK, we admit it... Sometimes it gets a little gross around here, but when your asked for something that looks like the floor of a Taxi-Cab? This full-size, posable, female-zombie-prop, display figure - was hand sculpted and rendered in fiberglass-resin, complete with flexable silicone-tongue. She's cool, she's hot...... She's Full "O" Rot!

Below you'll find a few more pieces from our vault. Custom masks, props, custom mascots, figures, scenic decor - and much, much more. For additional information, pricing and options - contact The Caretaker with this handy yellow-link!